What is
Medicare Supplement Insurance?
Feeling overwhelmed by the cost of your Medicare copays, deductibles and coinsurance? A Medicare supplement insurance policy (Medigap) helps cover those expenses so you pay less out of pocket.
Medicare Supplement Insurance, also known as a Medigap policy, can help pay for the leftover balance of covered services and supplies not paid by Original Medicare. This "gap" between the healthcare cost and Medicare benefit is normally paid out of pocket by the insured. However, a Medigap policy can pay the difference for you.
Medicare supplement plans are sold by private insurance companies. Southern Plains Insurance Group's licensed health insurance agents can help you choose the Medicare supplement plan that works for you.
---
Medigap Features
Coverage
Medigap helps pay for things Original Medicare does not, such as copayments, deductibles, coinsurance, excess charges, hospital fees and hospice copays. Coverage may also be available during travel outside the U.S., unlike Original Medicare. Your exact benefits will depend on the Medigap plan you choose.
Costs
As with other health insurance, the cost of a Medigap policy depends on the plan you choose. There are 10 options available, with costs generally ranging from $50 to $300 per month. Your Southern Plains Insurance Group representative can help you evaluate them and choose the best option for your needs.
Eligibility
To enroll in Medigap, you must be enrolled in Original Medicare. Those enrolled in Medicare Advantage are not eligible. Additionally, you need to buy your Medigap policy during your 6-month open enrollment period (the first 6 months after you've enrolled in Medicare Part B and you're at least 65 years old).
Medicare Supplement Plans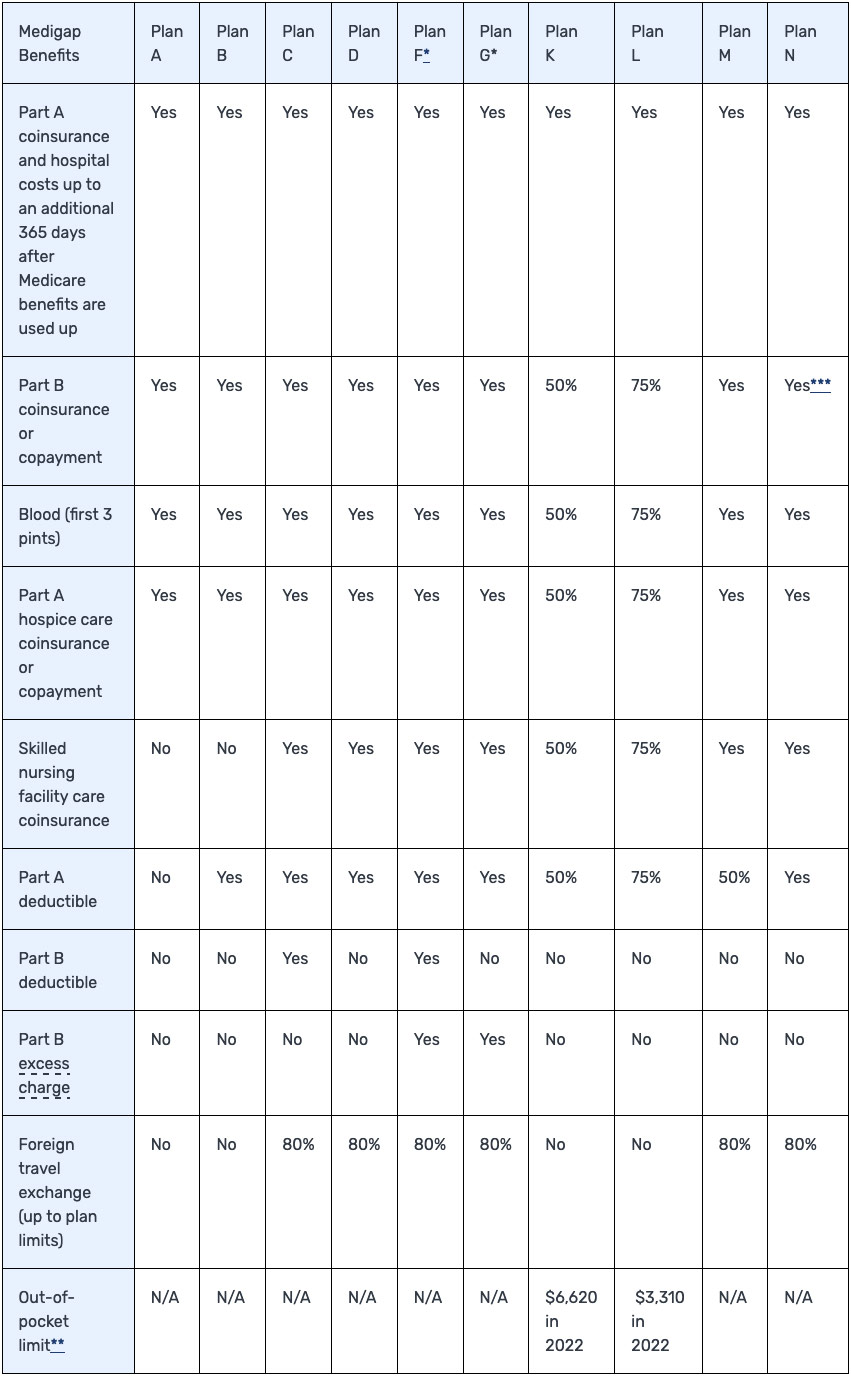 ---
How Southern Plains Insurance Group Helps You
Trusted Health Insurance Broker
With a limited window for enrollment, you need to be able to quickly make a decision about a Medicare Supplement policy. Fortunately, you don't need to spend hours on the phone or your computer looking up details about Medigap policies.
Southern Plains Insurance Group is your trusted partner who will do all of the research for you. As a licensed health insurance agent, we know how the different Medicare plans work together. We'll explain your options and help you decide which Medicare Supplement Plan will be the best fit for your unique situation.
Get personalized Medicare Supplement Insurance policy recommendations
Receive expert advice on your Medigap policy
Ensure you fully understand your Medicare Supplement Insurance options
Feel confident in your Medigap plan selection
---
Medigap FAQs
What are Medigap Plans?
Medicare Supplemental Insurance, also known as Medigap, is a type of insurance that helps to cover the cost of deductibles, copayments, and coinsurance associated with Medicare. It is designed to supplement Original Medicare, which covers hospitalization, medical services, and some prescription drugs. There are 10 different types of medigap plans available, each with different coverage levels. The most popular plan, Plan F, covers 100% of the gaps in Medicare coverage. Medigap plans are offered by private insurance companies and are sold through licensed agents like Southern Plains Insurance Group. You must have Medicare Part A and Part B to be eligible for Medigap coverage.
---
What Does Medigap Cover?
Medigap, or Medicare Supplemental Insurance, is designed to fill in the gaps in Medicare coverage. Medigap plans cover out-of-pocket expenses that are not covered in Original Medicare. Medigap helps cover:
Medicare Part A deductible, copay & hospital fees, and hospice copays
Medicare Part B deductible, copays, and excess charges
Blood transfusion costs up to the first 3 pints
Emergency medical costs during international travel
Medigap policies can also cover things that Original Medicare do not. See the chart above for details.
---
What Does Medigap Not Cover?
Similar to Original Medicare, Medigap does not cover:
Dental, hearing, or vision services
Medical transportation services
Fitness costs
Prescription drugs
---
How do Medigap Plans Work?
After Medicare has payed the approved amount, a Medicare Supplemental Insurance policy will pay the extra. Medigap policies only cover one person. Medigap policies are renewable regardless of health issues as long as you are current on premiums.
---
Who is Eligible for a Medigap Plan?
If you're currently enrolled in Original Medicare Part A and Part B.
You CANNOT be enrolled in a Medicare Advantage plan
---
When Can You Enroll in Medigap?
Open enrollment for Medicare Supplemental Insurance is for 6 months beginning on the first day of the month that you turn 65.
---
How Much does Medigap Cost?
Medicare Supplemental Insurance typically costs between $50-300 per month. Contact Southern Plains Insurance Group to find out what policy options are available for you.